How to arrive to Ischia by ferry or hydrofoil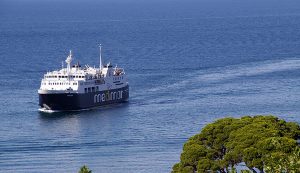 Ischia island is linked to Naples by a lot of ships and hydrofoils . The departure ports are respectively "Porta
di Massa" for ships and "Molo Beverello" for hydrofoils .There are several navigation companies. On summer time the departures to Ischia are made both by ships or hydrofoils every about 30 minutes during all the day.
The differences between ferry and hydrofoil are the time to arrive to Ischia, less by hydrofoil (about 40 minutes to reach Ischia ) and the chance to embark the own vehicle only on the ship. Both the solutions offer a pleasure trip with confortable seats and conditioned air. On board there are shared areas and services like coffee bar, plays areas for babies and armchair areas. During the crossing it's possible to have a wonderful view of Campania coast landscape.
How to book your ticket to Ischia
If you want to buy online your ticket to Ischia you can use the form below or send us an email to info@isclatravel.com.
The service is powered by "Traghettilines.it, that is responsible of ticket issue.  Please , be careful to the price before doing the booking. Isclatravel offers this chance to speed up the on
line ticket buy. If you want contact "Traghettilines.it" you can go on http://www.ok-ferry.com/ .
Isclatravel offers private transfer service with ferry to arrive to Ischia
The most simple way to reach Ischia by Naples is to use our private transfer service : an employee of our agency will come to pick you up at the Naples airport or at the train station. He will see you to the port and he will supply the tickets of ship or hydrofoil you need.
Isclatravel offers a quality service and to receive an estimate you can send us an email to info@isclatravel.com with details of arrival date, place , time and the destination.